Remember earlier this week when President Trump said something along the lines of, "...should Iran strike any U.S. person or target, the United States will quickly & fully strike back, & perhaps in a disproportionate manner."?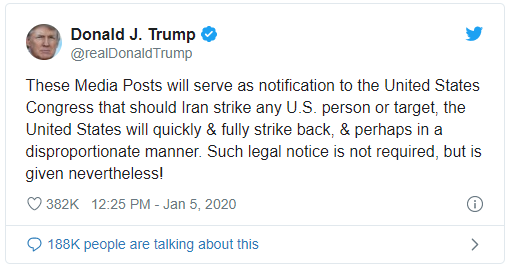 Yeah, well Iran tried to strike back, but were too busy staring at the hot goats walking by to notice that their missiles were mostly defective.

And as promised, President Trump is disproportionally striking back.

But not with missiles, bombs or guns this time; The President doesn't want to start a war. This time, President "Super Sack" Trump struck back in a much more strategic way; sanctions. 
How Sanctions Work
Also known as embargo, economic sanctions are commercial and financial penalties ordered from the United States against a self-governing state, group, or individual.

Don't let the word economic make you think that this is just an economy thing; it is a tactical use of force for political, military, and social problems.

Imposing limits on a nation's economy can have devastating effects by cutting off trade routes or ending trade agreements, often crippling a nation's military funding.

What Sanctions Are on Iran?
For the purpose of staying current, let's focus on President Trump's newest additional sanctions against Iran.

Today, the U.S. Department of Treasury's OFAC announced additional sanctions against the Iranian Regime. President Trump has signed an Executive Order targeting additional revenue streams that Iran uses to fund various military assets. These assets are:


Missile Development

Nuclear Programs

Malign Regional Influence

Terrorism & Terrorist Proxy Networks


In a press conference earlier today, SoS Pompeo issued the following statement:


"(The United States is issuing an E.O. authorizing sanctions against) any individual owning, operating, trading with or assisting sectors of the Iranian economy, including construction, manufacturing, textiles and mining."
Why Did Trump Impose More Sanctions?
These new sanctions limit Iran's ability to do business with America, access the USD, travel to the States, and collaborate with United States banks.

Limiting the Iranian Regime's economy in this way has two major repercussions:


They will rapidly lose funding for additional military strikes, reducing the risk of additional attacks.
It will destabilize the entire country's fragile social ecosystem, forcing the country to turn its attention on keeping the house of cards intact.
Iran now has no choice but to either continue retaliating against the U.S. and quickly cannibalize itself, or stop its kicking and screaming and ask "How high?" the next time President Trump says, "Jump, bitch."
------------
What do you think about President Trump's tactical economic strike?

Should he have just blown them all to hell like he did with Soleimani?

Let me know in the comments!

God Bless America,

Dan
Author
Liberty Tee Shop