The 2020 presidential race is coming at us faster than the Trump Train, and it looks like we have business leaders from all across America jumping on!

Former House Majority Leader Eric Cantor, R-Va., recently spoke with FOX Business about the U.S. corporate community's view on Trump's economic policies, and of course they're looking solid.

"The business leaders that I speak to are very happy with the consequences and the results of the Trump policy," he said Monday.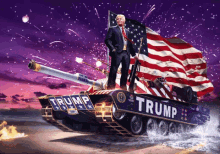 According to Cantor's remarks, business leaders see Trump's policies as a solid shift forward compared to anything under the Obama administration, regardless of trade tensions with China.

"In terms of the tax policy, the regulatory policy of this administration, it has been a huge turnaround from the prior years under the Obama regulation where you really did have an adversary in Washington," Cantor said.

Even former Bain Capital Director states that due to recent studies, the average American is more prosperous than the average European. 

Cantor also pointed out that the economic policies of any Democratic presidential candidate flat out does not work in the face of rising wages, but conversely sees the Trump campaign as greatly benefiting from rising wages.
---------
What do you think of good ol' 45's economic policies? Let me know in the comments!

Let's stick together and Keep America Great...

Dan
Author
Liberty Tee Shop